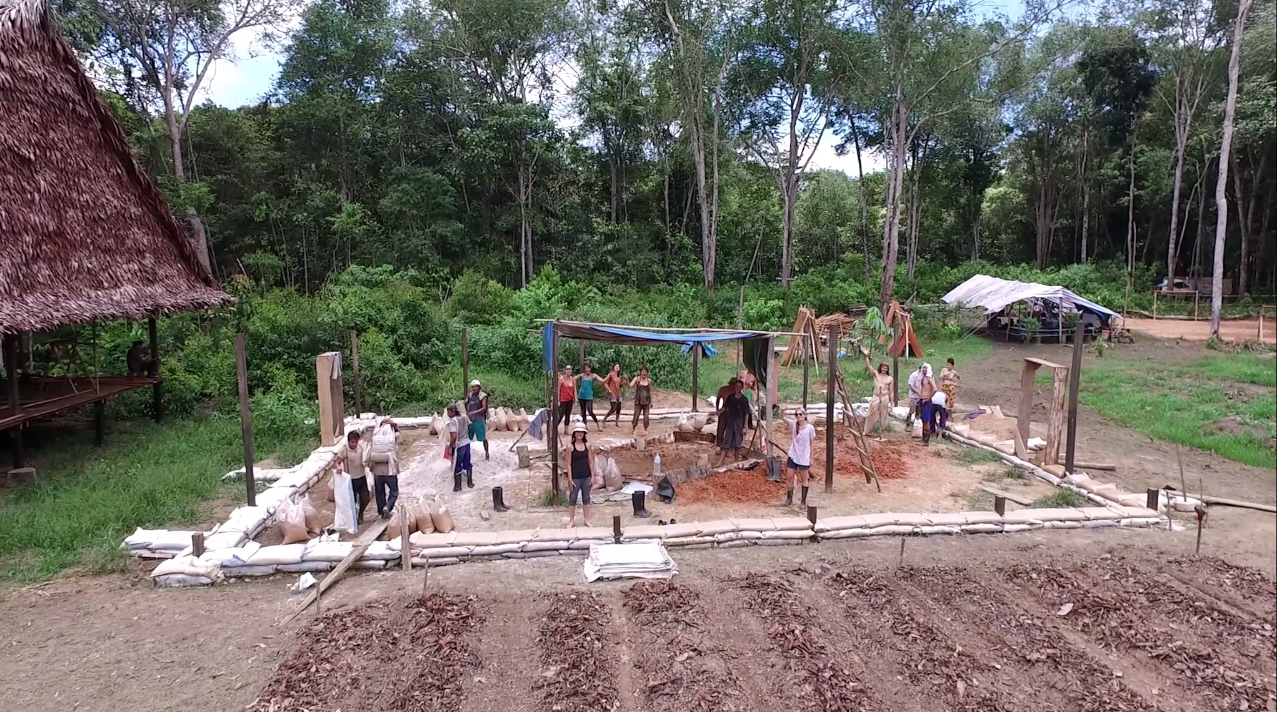 Volunteering at Inti

We began this exceptional experience of bringing together people of different professions and backgrounds in October 2014. To date, more than 300 people have come to the jungle to participate to the construction of the lodge.

We thank you greatly! It is only together that we can bring this project to life!

Some may not have experience but simply want to help, while others have knowledge and skills and wish to pass them on.

We need help in the following areas:

Construction / Bio Construction
Carpentry / Furniture making
Electricity
Plumbing
Organic gardening (project to launch)
Ecology / Sustainable development
Media / Articles, photos, videos
Cooking (vegetarian dishes)
Art Deco
Cosmetics (producing natural products)

For those who do not have special skills you can help with physical work, general labor, cooking, gardening, and with the daily tasks required of live on the land. Depending on your motivation and your time on site, you can participate in other areas.

It is in this spirit that you are all invited to participate in the development of the project.
Our primary goal is to think collectively to find the most versatile, ecological and sustainable solutions.

You do not want to work but only visit us and enjoy the jungle? Yes it's possible! Don't hesitate to contact us!
Fieldwork

The land suffered while previously being used for producing charcoal. A large area was burned, and much of the wildlife disappeared.

Participants began by helping us clean up the terrain in order to recover its Amazonian flora.

Once this work was complete, they assisted with the wood and adobe constructions by collecting the different materials existing in the jungle. Looking forward, we turn our focus to organic crops.

To date, participants aid in:

Constructing wooden buildings
Bio-construction with adobe bags (according to their construction skills)
Permaculture/planting crops and trees
Building furniture (according to their carpentry skills)
Meal preparation
Daily tasks of living in community
Providing photos and videos of the project


A strong bond has developed with the Peruvian workers and their families who come from the neighboring village. This shared working time helps to strengthen the ties between our two communities.

Once the lodge is in operation, we will continue to work with volunteers to help with:

Projects in the nearby village
Hospitality & maintenance of the lodge
Activities and workshops
Kitchen/restaurant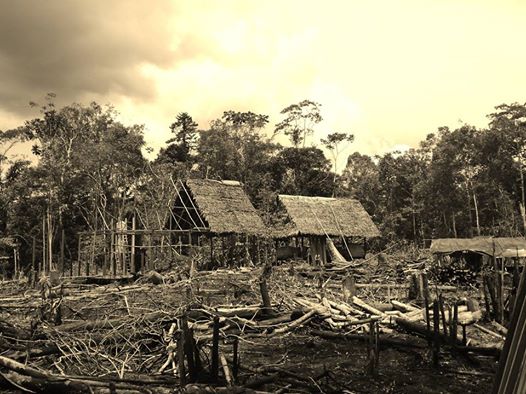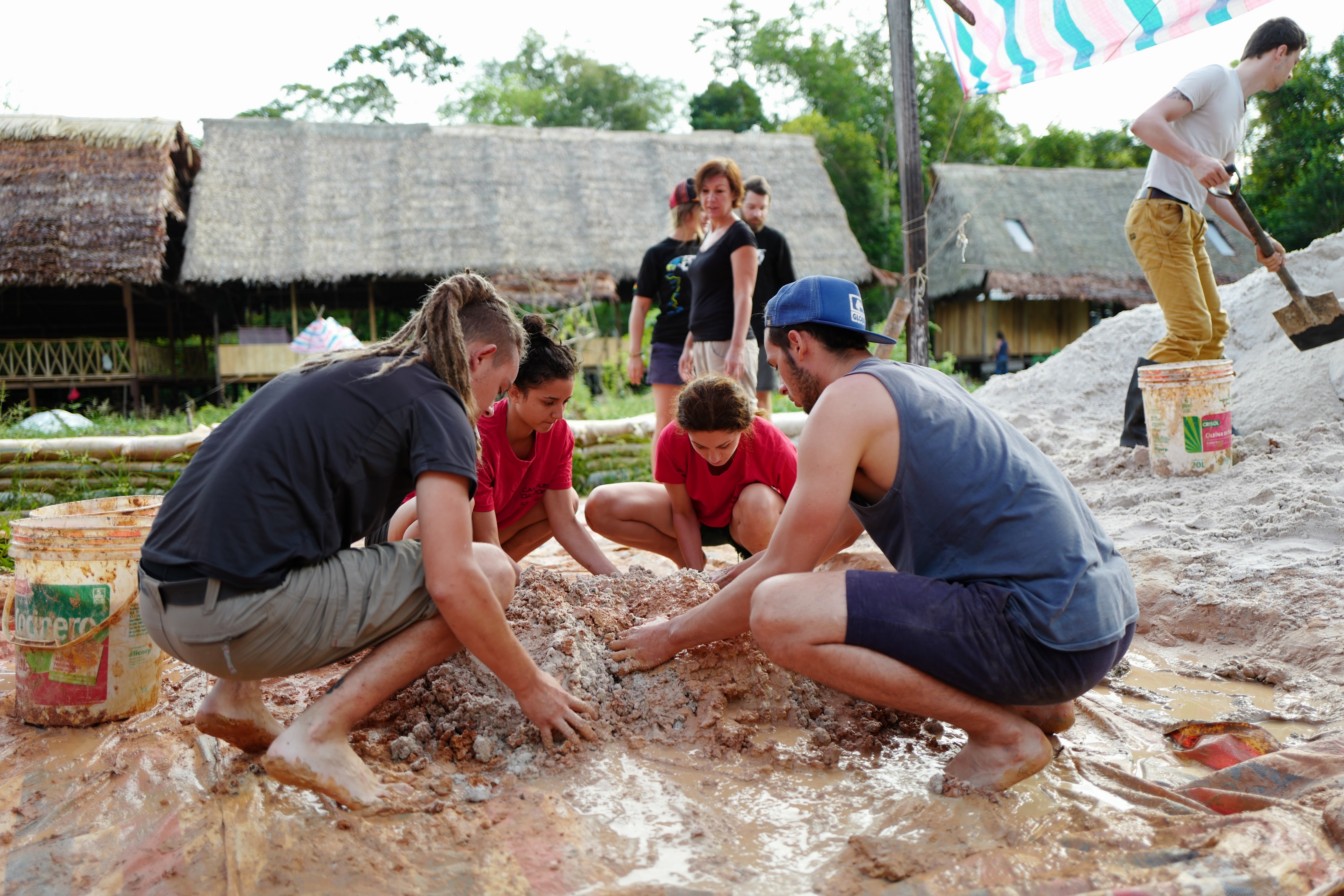 Life on the Ground
DEPARTURE:
Every Monday morning at 11 am, participants join us at the rendezvous point in the city center of Iquitos. Departure is by private van (1h30) on the only road leading to Nauta. We take a break for a lunch and then leave for a two-hour boat ride on the Itaya River before arriving at the lodge.
THE WEEK:
The double dormitory sleeping 24 people will soon be complete! Meanwhile participants install mattresses, tents and mosquito nets in this building.

We live in community. Participants take turns for the tasks of everyday life such as preparing meals, cleaning or collecting drinking water from the well.

Every morning the kitchen is open for you to use it and to make your own breakfast before working. You will have at your disposition: oil, salt, eggs, cereals, fruits, coffee and Tea.

Work hours are from 7 am to 11 am. The afternoon is free for different activities such as:

Volleyball, slack line, football
Swimming in the river, canoeing, fishing
Meeting with the inhabitants of the surrounding villages
Walking through the jungle, and much more...


You can return to Iquitos every Saturday and come back at Inti every monday with our boat or stay on site for those who wish to rest or visit the nearby village.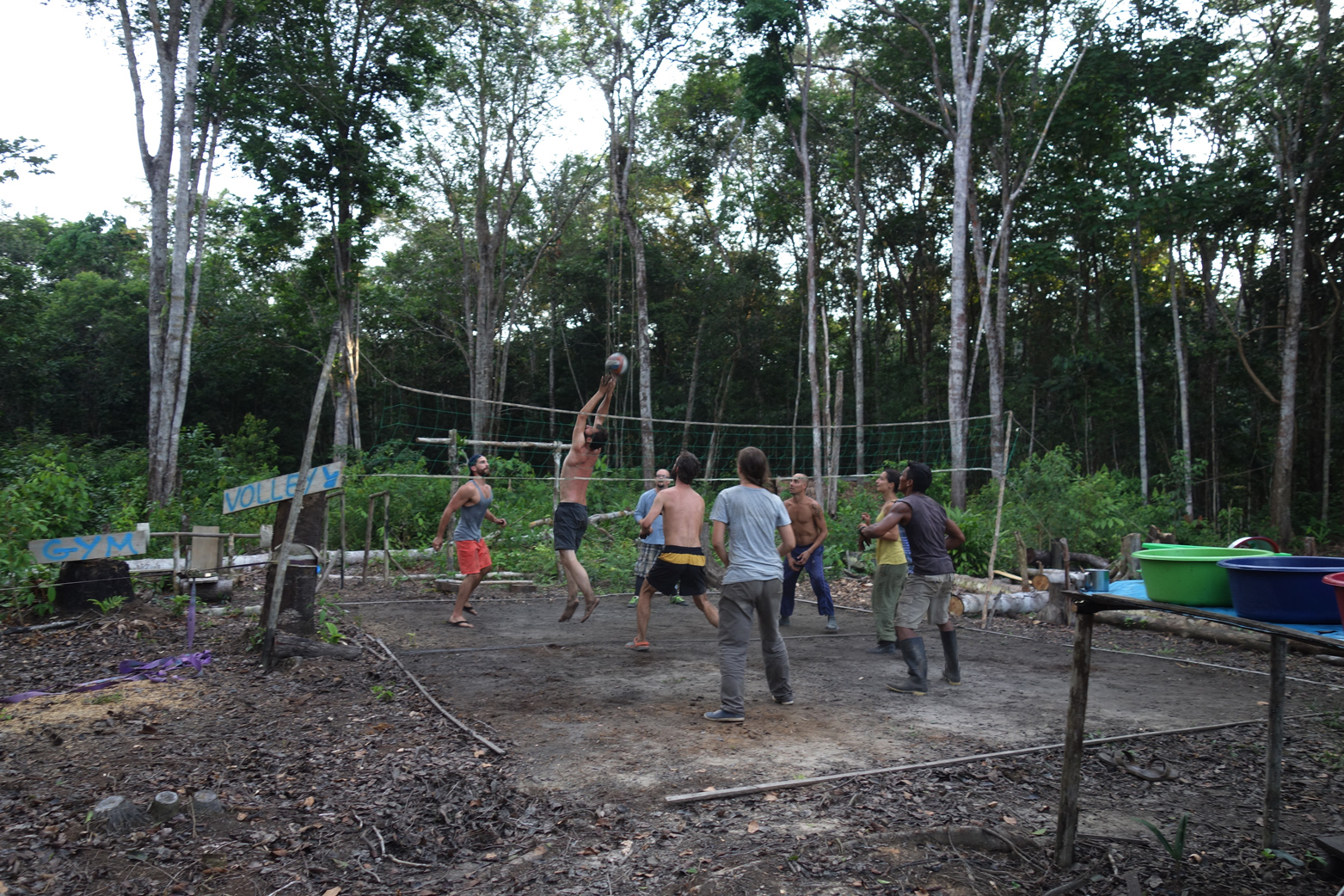 Useful information
ACCOMMODATION IN IQUITOS:
If you are staying in Iquitos, you can find hostels between 18 and 25 soles per night.
We recommend :
- "Hospedaje Golondrinas" (25 soles with pool but often at capacity so think of booking ahead),
- "Amazon Within" (20 soels with a garden)
- "La Casa de Samantha" (15 soles),
- "La Casa del Frances",

You can leave your personal belongings at the reception of the hostel your staying at. Volunteers may return to Iquitos on weekends or choose to stay on the land for consecutive weeks.


RESTAURANTS AND BARS:
Amazon Bistro, Karma Cafe, Dawn of the Amazon, Huasai, Arandu Bar, Nikoro


ACTIVITIES:
Floating Market, Belen Market, Butterfly Farm, Watchtower, Iquitos City Tour, Pacaya Samiria National Reserve.


MEDICAL SERVICES:
Clinica Ana Stahl: Tel (25-2535), Avenida La Marina 285; 24h / 24h (private clinic). Dr Carlos Vidal Ore: (975-3346), Fitzcarrald 156


EMERGENCY:
The National Police: (23-3330), Morona 126, the Tourism Police: (24-2081 / 975-93-5932), Lores 834.


PREPARING A RELIEF KIT:
Medicines for pain and fever
Anti-diarrhea
SRO type solutions (oral rehydration salts for diarrhea)
Anti nausea
Heartburn medication
Anti-allergy treatment and itch cream
Anti-inflammatory
Sunscreen (SPF 30)
A cream / lotion in case of sunburn (see Aloe, Biafine)
A cutaneous antiseptic
Wraps / bandages / dressings
Mosquito/bug products
Alcohol-based hand washing gel


Do not take medicine that could be affected by heat (syrups, suppositories)